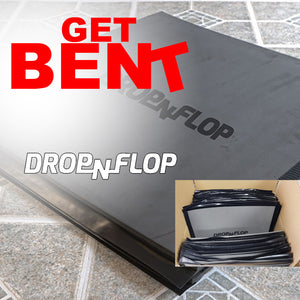 Buy 2 Get 1 FREE! Add 3 to your cart - discount calculates automatically!
Every once in a while, our manufacturer sends us a shipment of Drop-N-Flops that have deformed wall gaskets from being packaged incorrectly. Once the wall gaskets are deformed, they don't seal to walls and vertical surfaces well enough to be sold at full price.
Bad luck for us, but great for anyone that doesn't need a perfect wall gasket! The Get Bent Drop-N-Flop is perfect for:
✅  Mechanics: skip uncomfortable knee pads and creeper chairs.
✅  Plumbers: knee protection that doubles as drip & spill protection.
If you're looking for a Drop-N-Flop but don't need it to seal completely to a vertical surface, you're in luck! Our Get Bent Drop-N-Flop has all of the features and benefits of the regular model except for the deformed wall gaskets.
Please Note: This is a final sale item and cannot be returned, exchanged, or refunded.